CeraTex® Bio

NEW!
Bio-Soluble (Low Bio-Persistent) Fiber Products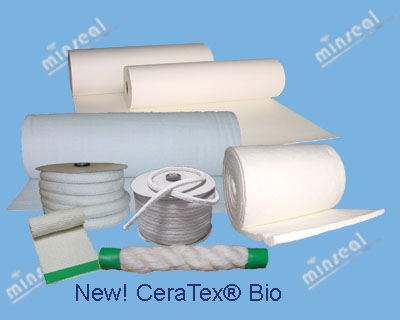 CeraTex® Bio products, made from alkaline earth silicate (SiO2, CaO, MgO) fibers, are bio-soluble (low bio-persistent) and high temperature resistant (up to 2300° F maximum). Variations of CeraTex® Bio fiber products include:
Tape
Rope (Twisted Braid, Square Braid, Round Braid)
Paper
Blanket
Common uses for CeraTex® Bio products include refractory linings, thermal insulation, sealing, and metallurgical applications.
Main Characteristics and Properties
High temperature stable
Lightweight, excellent handling strength
Low thermal conductivity, low heat storage, thermal shock resistant
Chemical and corrosion resistant, compatible with commonly used acid and alkali
Excellent fire protection
Bio-soluble (low bio-persistent)
Chemical Composition
| | |
| --- | --- |
| SiO2 | 55 – 65 % |
| CaO | 23 – 35% |
| MgO | 5 – 10% |
Product Applications
Lining, insulation and repair for furnaces, kilns, ovens, boilers, steam reformers
Insulation for power plant, turbine, thermal reactor, generator, and nuclear applications
Expansion joint seal and insulation
Wrapping and insulation for high temperature pipe or metal casting
Fire protective insulation and lining
Other high temperature seal, gasket, insulation, filtration or protection
Equivalent: LBP Wool - HTIW®; Insulfrax® - Unifrax®; Super Wool - HTI Temp Inc.®; Supermag® - Nutec
---